In September 2018, Saudi Arabia's Public Investment Fund (PIF) unveiled Amaala Saudi Arabia, a 3,800km2 gigaproject that will serve as an "uber-luxury" wellness tourism destination. Located on Saudi Arabia's northwestern coast, Amaala included as part of the Vision 2030 goals and will sit alongside Neom and The Red Sea Project.
The "Amaala" resort, already being dubbed the "Riviera of the Middle East," will be focused upon wellness and healthy living.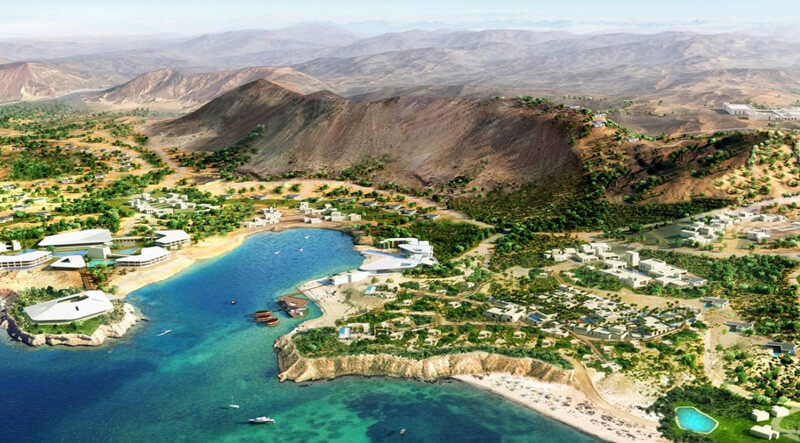 According to the developers, Amaala will feature "extraordinary architecture and unprecedented luxury in both hotels and private villas as well as a quaint retail village."
Amaala has appointed HKS Architects as the master planner for two of its three key communities – Triple Bay and The Costal Development. The project is taking shape in the Prince Mohammed bin Salman Nature Reserve.
Triple Bay is to be a fully holistic wellness retreat with state-of-the-art diagnostic medical facilities, and authentic treatments influenced by the local environment and traditional practices. The community will be the first truly integrated sports and entertainment community with diagnostics, medical, and transformative wellness combined with learning in a family friendly environment.
The Coastal Development is being developed as the defining hub of contemporary arts in the Middle East. It is to host a programme of exciting events from the global arts and cultural calendar. Built on philanthropy, the immersive programmes will be creative, practical, and academic with a strong link to the Saudi community.
PIF announced there will be cultural events, artistic performances and related conferences in a bid to bring international visitors to the region, where they can enjoy a wide array of unique and personalised holiday experiences set against stunning scenery, mountainous landscapes and diving among pristine coral reefs.
The project will include marinas and a yacht club and aims to be a destination for boutique luxury cruises. It will also include an arts academy that will foster the growth and development of young artists from Saudi Arabia and the region.
The retail areas will include a mix of galleries, ateliers, artisan workshops and bespoke outlets along with a wide range of international and local restaurants.
As envisioned in Vision 2030, Amaala Saudi Arabia – along with the other gigaprojects — will support the diversification of Saudi Arabia's leisure and tourism industry, while promoting cultural conservation, ecological preservation and sustainability.
Amaala Saudi Arabia
Consisting of a dedicated airport, 2,500 luxury hotel rooms, 200 retail establishments, art galleries, marinas, and 700 villas will be developed within Amaala, now is the perfect time to prepare your real estate and property investment strategy opportunities.
Sign up here for FREE to receive important updates by email and stay ahead of the curve for when Amaala Saudi Arabia Villas become available.
In September 2018, PIF said that it would offer "attractive partnership and investment packages" for investors to participate in Amaala, described as "a natural extension" of the Mediterranean Sea. Nicholas Naples was named chief executive officer of Amaala by PIF.
Click here to see more Saudi Arabia Giga Projects