Neom has announced that it has awarded a $35 million contract to Red Sea International for the design, build and facilities management of accommodation units, offices and all supporting building amenities within the giga-development.
According to a $20.7 million contract signed earlier this week, Red Sea International will provide engineering, procurement and construction services for accommodation units, offices and all supporting buildings in Neom. The four-month deal will be recorded over the period beginning from the fourth quarter of 2020 until the first quarter of 2021.
In addition, the recently signed $14 million contract will cover facilities management, operations and maintenance services for accommodation units, offices and all supporting buildings. This is a three-year contract, extendable for an additional cost, the company said in a statement to the Saudi Stock Exchange (Tadawul). It also added that the new deal will be reflected in the financial statements over the period beginning from Q1 2021 to Q4 2023.
Red Sea International
Under the terms of the contract, the scope of work will include comprehensive facility management and camp operations services including catering, housekeeping, laundry maintenance, medical, security and recreational services.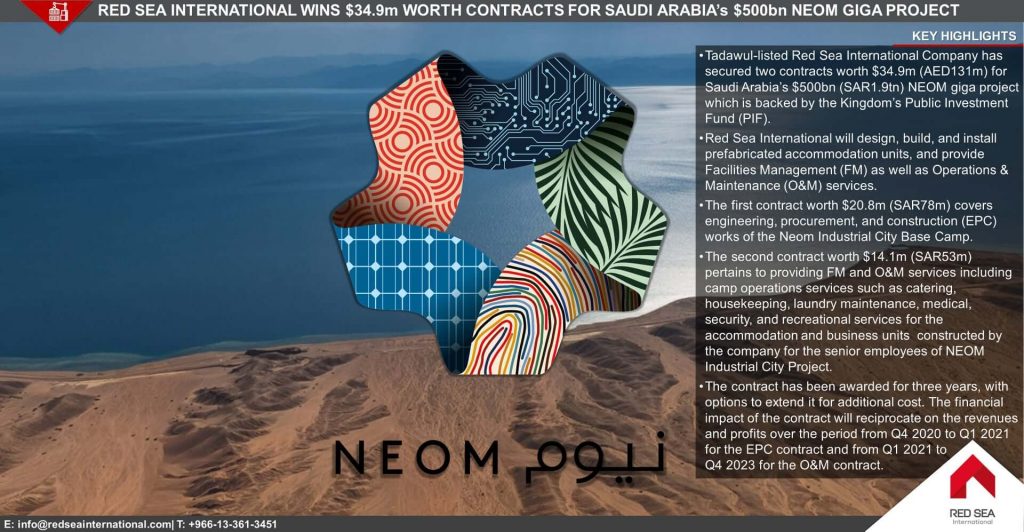 Located on the Red Sea coast, Neom is a $500 billion investment and part of the Kingdom's Vision 2030, which aims to attract foreign investment and create jobs in an effort to reduce the kingdom's dependence on oil. The first phase of the giga-project will end in 2025, and the whole project is expected to be completed with a period of 30 to 50 years.
Saudi Arabia Giga Projects are beginning to gather pace as they look to unlock the full potential of their countries natural environments and open the doors to international investment, tourism and high-end luxury resorts. The prospect of Real Estate and Property investments is huge.
Sign up for FREE Information Packs on the latest news about Neom Property & Real Estate Investments Project – Click here