The Mukaab, unveiled by Saudi Arabia's Crown Prince, a 400 metre-high, wide and long indoor super-city in the centre of Riyadh. Large enough to hold 20 Empire State Buildings, there are hopes the PIF-backed giga-project becomes a new global icon of technology, sustainability, mobility and Saudi innovation.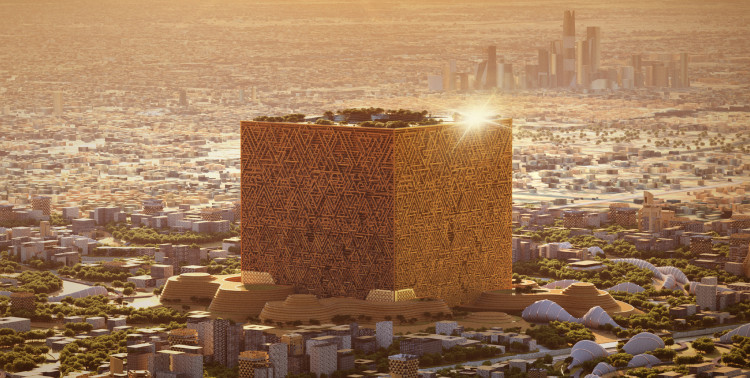 The Mukaab
The Mukaab sits in the centre of the wider New Murabba Development, created by His Royal Highness Crown Prince Mohammad bin Salman bin Abdulaziz, Prime Minister and Chairman of the New Murabba Development Company (NMDC) to bring the project to fruition.
Going through the centre of The Mukaab will be a spiral base, comprising "premimum hospitality units", retail spaces and tourist attractions. There will also be more than 80 entertainment and culture venues, a museum, a tech and design university and a theatre.
Elsewhere inside, the Mukaab will also feature some kind of holographic experience that will reportedly be used to depict underwater and strange otherworldly scenes. It's all very ambitious and futuristic.
The Riyadh giga-project is set to open in 2030.
The project will be situated at the intersection of King Salman and King Khalid roads to the North West of Riyadh, over an area of 19 square kilometres, to accommodate hundreds of thousands of residents. The project will offer more than 25 million sq m of floor area, featuring more than 104,000 residential units, 9,000 hotel rooms, and more than 980,000 sq m of retail space, as well as 1.4 million sq m of office space, 620,000 sq m of leisure assets, and 1.8 million sq m of space dedicated to community facilities.
It is expected the project will create 334,000 jobs direct and indirect and add SAR180bn (US$47.98bn) to national GDP.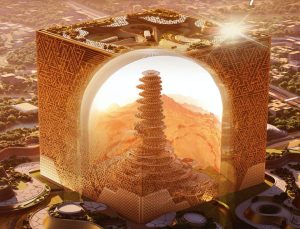 Sign up for FREE Information Packs on the latest news about Neom Property & Real Estate Investments Project – Click here