Saudi Arabia will build a new mega city by the Red Sea called NEOM.
It is a 26,500km2, $500 billion project that will transform #KSA into a global hub with a diversified economy. The project is found in the north-west of the Saudi Arabia Kingdom. It includes land among the Egyptian and Jordanian borders. The location of the  project is exclusive. The temperature is regarding 10° C below the typical temperature across GCC.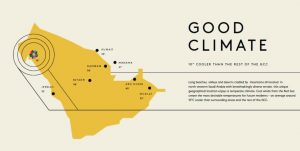 Backed by the Kingdom's vast Public Investment Fund, the 2030 Vision project will operate as an independent economic zone powered solely by regenerative energy, spanning three countries, complete with its own self-governing laws and regulations and all strategically designed for economic stimulation.
The project's vision is to make it the best place in the world for living and working.
Sign up for FREE Information Packs on latest news about Neom Property & Real Estate Investments Project – Click here